iscb rsg-india webinar- "ipr in bioinformatics" One day webinar series| December 13, 2020
ISCB RSG-INDIA WEBINAR – MENTAL HEALTH ISSUES IN YOUNG RESEARCHERS | OCTOBER 10, 2020
panel discussion on "Bioinformatics and big data: career, scope and future" in 5th IITM-Tokyotech joint symposium (5-6 March 2020)
We organized a panel discussion during 5th IITM-TokyoTech joint symposium held in IIT Madras during March 5-6. We invited experienced panelists from industries, academia and both. In the panel, we had Prof. R. Sowdhamini (NCBS, Bangalore), Prof. Mukesh Doble (IIT Madras), Prof. G. P. S. Raghava (IIIT Delhi) and Dr. Anirudh (PhD, Stockholm University) who has founded his own entity in simulation aspects. Around 200 scholars and faculties actively participated in the discussion and obtained valuable insights.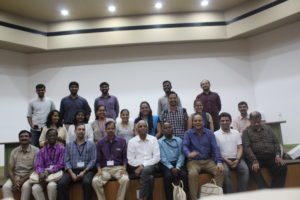 one day workshop in JNU (details and description needs to be updated) 2019
A one day event was organized in JNU where research scholars from multiple institutions across India participated and presented the posters of their research work.

28th September 2018: "Career Opportunities in Computational Biology and Bioinformatics" in InCoB, JNU New Delhi
A session was organized as a part of Seventeenth International Conference of Bioinformatics (InCoB) held during Sept 26th-28th, 2018 in which leaders from academia and industry partners described about the career opportunities in the field. Dr. Satish Gupta from TCS had a discussion with students about career opportunities in industry whereas Prof. Lukasz Kurgan expanded the scope in academia. Several other researchers took part in the discussion. Along with the panel discussion, a scientific writing competition was organized to enhance the writing and critical thinking among students pursuing research. We received an overwhelming response for the events.